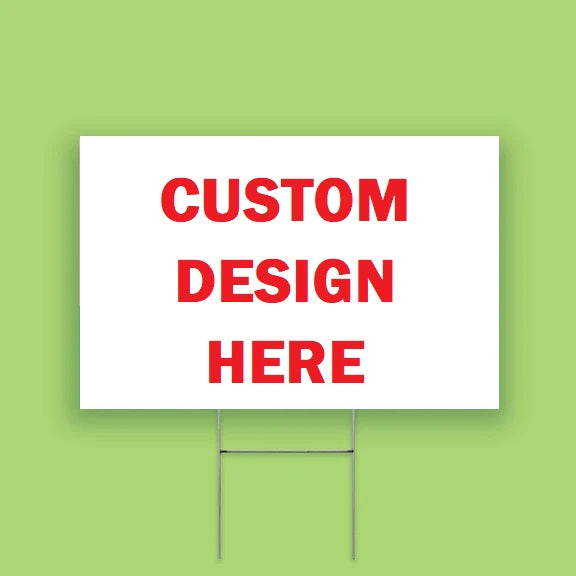 Custom Coroplast Yard Sign
$4.00
Custom Coroplast Yard Sign
Our Custom Coroplast Yard sign is a low cost Yard Sign solution for small businesses looking to promote their company. We can digitally print any design on your custom coroplast yard sign. Select from a wide range of sizing options.
Customize this yard sign with your business's design, phone number and start collecting today with local marketing.
Custom Coroplast Yard Sign for Businesses 
Custom coroplast yard signs are popular among small business owners. Custom yard signs can be made and installed fast. They are economical compared to other forms of marketing. They can be used in high traffic areas and also at customer properties to promote your business and work.
Features of Custom Yard Sign
Fully customizable with any design
Weather resistant
Easy to install
Fast Sign turnaround time
Cost effective, low cost
Shipped within 2-4 business days

Custom Coroplast Yard Sign
Material: 4mm Coroplast Print

Dimensions: Available in 18"W x 12"H and 24"W 18"H 
Custom Coroplast Yard Sign
Select the size for your Custom 

Coroplast Sign Print

Select your print option - single or double sided print

Up load your design

Enter the quantity required and check out
How are 
Custom Coroplast Yard Sign
 Installed?
Install your custom yard Sign using a Wire H-Stake
Determine the location for your

 Coroplast Sign Print

Slide one side of the Wire H-Stake into fluting of the corrugated plastic

Sign Print

Step on the bottom vertical bar of the Wire H-Stake and push the Wire H-Stake into the flower bed, grass, or soil. 
Where should I install my

Custom yard sign

?
Custom Yard Sign Prints are commonly placed at high traffic locations or placed Infront of commercial businesses or residential properties that you service. It is recommended to install the custom Yard signs at high visibility areas such as an intersection, around traffic stops, on lawns that your business service, or busy walkways.