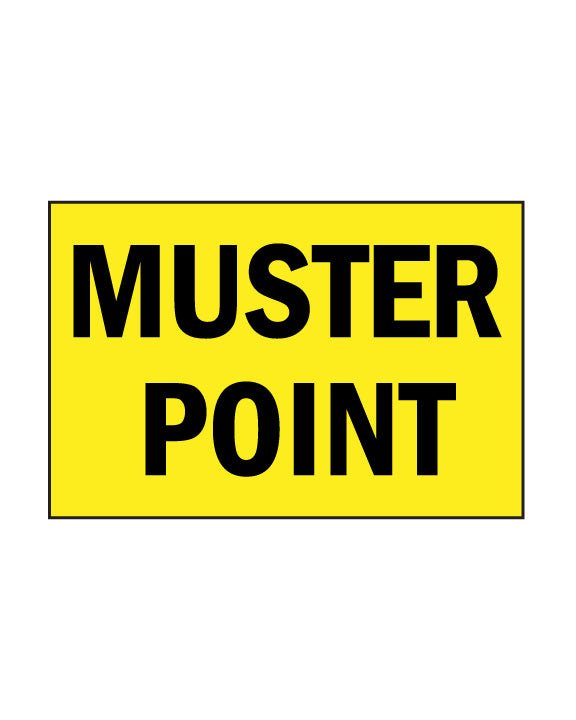 Muster Point Sign 18" x 12" x 4mm Coroplast
$8.00
Muster Point Sign Usage
Muster Point Signs are use to visually identify a designated meeting location in the event of an emergency on a job site, construction site or place of work. In the lower mainland and across greater Vancouver where construction sites can be larger, there may be multiple muster points on a given development.
The location of the muster point is generally a safe distance from the main buildings and hazards. The muster point sign is commonly displayed at the designated location to guide  subcontractors, staff, visitors, and first responders. Make sure to also review the information of the muster point during your site orientations.
Where to install the Muster Point Sign
The muster point sign must be visible and placed in a location with little or no obstacles. Multiple muster point signs maybe used to over come poor visibility.
How are Muster Point Signs Installed?
The Muster Point Sign can be installed on to a fence using zap straps and/or attached to a pole to indicate the Muster Point location.
Muster Point 

Sign Features

Key features that make the Muster Point Sign ideal for construction sites are:

Durable: Muster Point Signs are printed on coroplast- a lightweight material that is ideal for indoor or short-term outdoor applications. It is one of the most widely used material in the industry.

High Quality Print: : Muster Point Sign is printed on vinyl using latex print technology and then applied to coroplast. 

Longevity: The Muster Point Sign is waterproof, weather resistant, and stain resistant.
Where is the
 Muster Point 

S

ign

 made?

Our Muster Point Signs are made in Canada at our sign shop located in Surrey, B.C. Muster Point Signs are available to be picked up at our Surrey sign shop or shipped to jobs sites across Canada.